Purcell Trench Company
home about order contact grill tips
---
Grills: 2023 Hand Made in the USA since 1993.
"Purcell Trench makes the best grills on the planet." Cliff Jacobson (wilderness guide, author of Wilderness Canoeing and over a dozen other popular books, and the video The Forgotten Skills)
It is suggested all visitors peruse the Home page and note links at top and bottom of the page.

TIG (Tungsten Inert Gas) Welded thin wall tubing yields a light grill.
2023 NOTES: WEIGHTS: This year listed as approx. because we are using steel purchased in smaller amounts and while they are produced to the same specifications, makers allow themselves some variation in dimensions. The Solo Grill and the Packers series are available in stainless steel and titanium. WE DO NOT GUARANTEE TITANIUM GRILLS AGAINST WARPING. Our titanium grills should last for a very long time if the user doesn't significantly exceed temperatures higher than stove burners.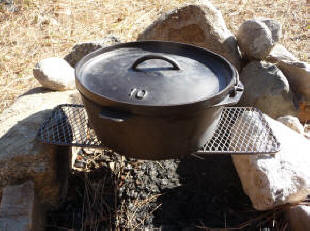 The Streamside Travelers Grill (pictured) is our weakest grill, but supports this 10 inch Lodge cast iron Dutch oven full of liquid.
For maximum stability, Purcell Trench grills sit directly on the structure that holds your fire. Grills are narrow, allowing for a coal producing fire adjacent to the grill and easy control of temperature by pushing hot coals underneath the grill or pulling hot coals out from under the grill.
Purcell Trench campfire cooking grills are Tungsten Inert Gas (TIG) welded from American made, 1/4 inch diameter, thin wall stainless steel tubing, ultralight titanium tubing and thin sheet expanded stainless steel or titanium for strength without weight. They have rounded, smooth edges and rapid cooling tube frames for quick and easy packing. Purcell Trench camp grills are narrow for better fire control and legless for more stability, lighter weight and longer life.
Grills come in three types: Stainless steel (SS) tube grills and titanium (Ti) tube grills (Titanium Packers Grills - see material comments below) for cooking in pots and pans or direct grilling firm or bone in meats and larger vegetables. Or grills with tubular frames and expanded metal surfaces for grilling fish, burger, vegetables or other smaller food items directly over the coals. We call them Streamside grills.

Grills come with a durable coated nylon bag to keep the rest of your gear clean.
All Packers Grill models come with a light weight bag sewn, turned inside out and closed with a cord lock. Silk screened graphics are in red ink.
Travelers Grills come with a bag choice, either light weight bag like the Packers Grills, except with silver ink; or a medium weight carry bag with a little heavier fabric, edges are bound with royal blue nylon ribbon and a flap closure is secured with Velcro. Graphics are in silver ink (similar to the drawing at the right).
Voyageurs Grills come with medium weight carry bags built with the same fabric and construction as the medium weight Travelers Grill bags, except the binding is red and the graphics are in red ink.
Guides Grills use the same fabric as the other medium weight carry bags. Velcro seals the flap. Royal blue binding is used on the seams and silver ink graphics provide an attractive product.
---
Solo Grills: For the solo traveler and one pot meal cook. Does not come with a carry bag. Frame size 8 x 5 inches (20.3 x 12.5 cm.) Frame is rectangular.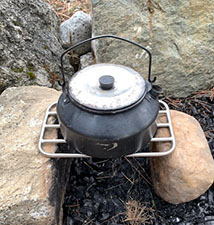 SS Solo Grill weight is approx. 3 oz. (86 grams). Ti Solo Grill weight is approx. 1.8 oz. (55 grams).
Solo grill is used by day hikers for heating water, making soup, etc. or one pot meal for backpackers.
SS Solo Grill cost - $53. Ti Solo Grill cost - $70.
ORDER FORM
---
Packers Grills: Perfect for solo travelers or 2 or 3. Frame size about 15 x 5 x 4 inches (38 x 12.7 x 10.2 cm.). Frame has a full inch of taper.

SS Packers Frame weight is approx. 2.3 ounces (64 grams). Ti version about 1.4 ounces (39 grams).
Packers Frame is for the minimalist using pots and pans wide enough to fit the grill.
SS Packers Frame cost - $40. Ti Packers Frame - $49.

Weight of steel Packers Grill is approx, 3.3 oz. (94 grams). Ti Packers Grill weighs 2 oz. (56.5 grams).
The standard Packers Grill (right) is a rigid unit suitable for firm meats and larger vegetables.
Provides firm support for small to medium sized pots and pans.
Price for SS Packers Grill - $49. Price for Titanium Packers Grill - $66.

Weight of SS Packers 2 Grill is approx. 4.1 oz. (116 grams). Ti Packers 2 Grill is about 2.6 oz. (75 grams).
The Packers 2 Grill was new for 2018 and has been a popular addition to our inventory.
The grill is strong and provides more support for small pots or items for roasting directly over coals.
Price of the Packers 2 Grill - $59. TI Packers 2 Grill - $77.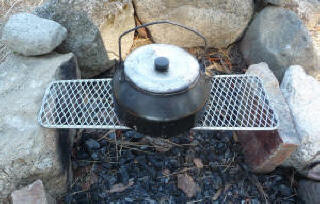 The SS Streamside Packers Grill weighs approx. 4.0 oz. (112 grams). Ti Streamside Packers 2 Grill weighs about 2.7 oz. (77 grams).
The SS Streamside Packers Grill (right) has full frame coverage with expanded stainless steel. The Ti Streamside Packers Grill has a surface of Grade 1 expanded titanium.
It is suitable for pot and pan cooking as well as roasting even small pieces of meat and vegetables directly over coals.
Streamside grill expanded metal can warp a bit over hot fires, typically settling mostly back into shape as the expanded metal cools.
Price of SS Streamside Packers Grill - $75. Ti Streamside Packers Grill - $89.
---
Travelers Grills: Our original grill, provides all around service for one to a small group. Frame size about 17 x 5.5 x 5 inches (43.2 x 14 x 12.7 cm.). Frame has 1/2 inch of taper.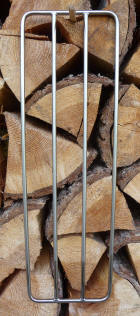 Approx. Weight of Travelers Grill is 5 ounces (142 grams).
The grills are popular with backpack, bike, motorcycle, canoe and kayak, equestrian, ATV travelers, boaters and car campers.
The standard Travelers Grill is suitable for about all pots and skillets or broiling firm meats such as steaks or chops directly over coals.
The four lengthwise tubes make for a strong grill.
Travelers Grill price - $64.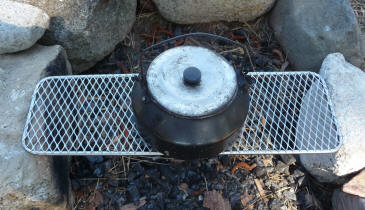 Weight of the Streamside Travelers Grill is approx. 5 oz. (142 grams).
The Streamside Travelers Grill (right) has the Traveler frame but the lengthwise stays are eliminated and a sheet of expanded metal covers the top of the entire frame.
The grill is suitable for all but the largest pots and pans and can work with all meats, fish and vegetables, bread, polenta or potato cakes, for instance.
The substantial sheet of expanded metal can be expected to warp a little over a hot fire but mostly come back to shape as the expanded metal cools.
Price of the Streamside Travelers Grill - $84. If the old style Streamside Travelers Grill is desired, we have some. They weight a little more. - $98.
---
Voyageurs Grills: Designed for backcountry canoe travelers but have been embraced by campers of all persuasions. Frames are 7 x 18 inches (17.8 x45.7 cm.), have no taper.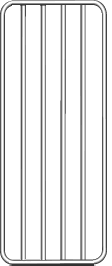 Weight of Voyageurs Grill is approx. 8 oz. (226 grams).
The Voyageurs Grill was designed to meet the desires of backcountry canoe travelers. However, it is popular with a wide spectrum of campers.
The standard Voyageur has four internal stays. They are closer together than the Travelers Grill, so the Voyageur is a good all purpose grill.
It is common for groups or families to buy both a Voyageur and Streamside Voyageur and use them over the same fire for maximum cooking flexibility.
Voyageurs Grill price - $91.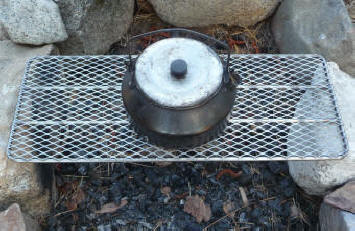 Weight of the Streamside Voyageurs Grill is approx. 10 oz. (284 grams).
The Streamside Voyageurs Grill (right) has two internal stays and a full covering of expanded metal TIG welded to the frame and tacked to the stays to minimize deflection.
The Streamside Voyageurs Grill provides a cooking surface useful for small to large pots and pans, and meats, vegetables, bread and so on directly over coals.
The grill is more prone to warping than our other grills due to the size and amount of surface area of expanded metal, and large fires are typically hotter than small fires. It is not a persistent problem but a break-in fire is advised and some straightening may be required for a couple of fires, until the steel is acclimated to campfire heat.
Streamside Voyageurs Grill price - $127.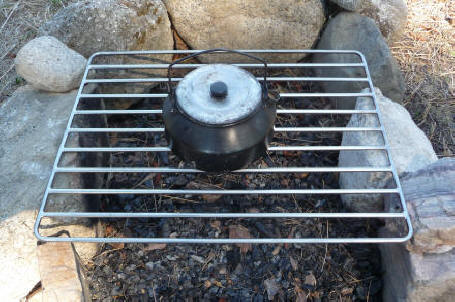 The Guides Grill weighs approx. 15 ounces (426 grams). It is 14 by 18 inches with 9 internal stays the same distance apart as the Voyageurs Grills.
We originally produced the Guides Grill years ago and called the Voyageurs Grill the Half Guide because it was half as wide as the Guide.
The advantage of this grill is that it provides a larger cooking surface.
The disadvantages are that it is too wide to easily rake coals under or out from under the grill and it is not as convenient to pack as our narrower grills. Many users who feel they may need this much surface area buy two Voyageurs Grills (or Voyageurs and a Streamside Voyageurs) and tote them in the same bag.
This is not as popular as our other grills but if you want to put more food on the grill this might be the right product. Grills featured as backcountry grills are frequently about this size. They are generally heavy. This is the light weight, long lasting option.
Price of the Guides Grill - $153.
Custom Grills: We do custom grills on request. Welding requires material compatibility (no steel frames and titanium stays, for example). We do not put legs on our grills. Standard grills are made on established jigs and mass cut pieces. Custom grills require custom work, hand clamping rather than using jigs, for instance. The closer they are to what we make the more reasonable the price, the more exotic the higher the price. Contact me with your idea and I will give you a quote if it is something we are interested in doing.
---
STIX

Two pieces of stainless steel tubing 17.5 inches in length, about 2.4 ounces for the set. Or you may request 16.5 inch or 14.5 inch STIX, or we can cut longer or shorter pieces of tube. Experienced campers have carried a couple of pieces of steel tubing for cooking over the fire for ages. STIX can augment grill capabilities, you can put them to the side of a grill to expand the working dimensions of the grill, or under a grill to make the grill work on a larger fire. No carry bag included (I recommend a plastic bread sack). $11/pair. Ti STIX- $19/pair.
---
In Canada, Purcell Trench grills may be purchased from canadianoutdoorequipment.com. In Japan, Purcell Trench grills may be purchased from pollogear.com - Gunma, Japan pollogear.com.
---
Materials
There are numerous types of stainless steel and grades of titanium. We use made in the USA type 304L stainless steel, which is corrosion resistant and high heat tolerant. Tubing is typically extruded or welded and we have used both with equal success. Our .250 inch diameter, thin wall tubing has been tested at 1,500 degrees F for 1,000 hours with little loss of mechanical properties. We require tubing designed to meet industrial standards and uniform dimensions. The tube is annealed to facilitate bending. If you bend your grill accidentally it can be bent back into form. Despite the high expansion ratio of stainless steel the all-tube grills are stable and Streamside grills have proven quite durable, with some expected deflection of the expanded material especially during welding and over a fire. The large Streamside Voyageurs Grill is more prone to deflection than our other grills until they get used to campfire heat. We recommend a conditioning fire (medium heat fire, grill uniformly heated from end to end, both sides) before using high heat with our grills and that is especially important with the Streamside Voyageurs Grill.
Expanded stainless steel is sheet material, die cut, expanded and in our case flattened to desired thickness. We use the same type material as the tubular frame to minimize expansion conflicts and facilitate weld integrity.
The expanded metal is welded to the tube frame at each contact point and tacked to internal stays in the case of the Streamside Voyageur grill. Welders shield the working area with inert gas to provide a stronger bond and protect steel near the weld.
We order tube and expanded metal directly from American mills to maintain uniform material excellence. Grill weights are listed as approximate because, despite prescribing specifications to the factory, dimensions vary slightly from order lot to order lot. Expanded sheet steel weight varies more than tube weight.
Titanium, unlike steel, is an element and commercially pure titanium is a useful product. Increasingly, small amounts of other elements are added to enhance properties for specific applications. Our Titanium Packers Grills are of Grade 9 material, a strong heat tolerant titanium alloy. It is roughly twice as strong as commercially pure titanium tube and about 60% the weight of stainless steel tube of the same dimensions. The tube is stress relieved rather than annealed, so the grills are quite stiff. Customers should avoid bending them. The expanded titanium we use on the Streamside Packers Grill is Grade 1 material (one of the 4 pure titanium grades). It is not as strong as Grade 9 nor as heat resistant.
Titanium has an excellent strength to weight ratio and outstanding corrosion resistance. The melting point is high but the material degrades in atmospheric gases at elevated temperatures. For instance, welding requires a neutral environment.
We experimented with titanium as a grill material several years ago and were not satisfied with the results. Materials and welding techniques have improved. During our tests the titanium Packers series has generally held up well. However, metallurgists warn titanium can warp and oxidize when subjected to temperatures much over 800 degrees F. (hotter than your range burner or broiler at home). We have not had oxidation problems with test grills but have had some warping of grills over hot fires with significant weight on the grill. Titanium can lose working strength fairly rapidly at high temperatures. Customers wishing to put their grill over a roaring fire to get the kettle boiling right away should buy a stainless steel grill. Titanium grills will not tolerate as much heat as stainless steel grills.
Our supply of titanium is limited and intermittent. Product specifications may change. If you want a titanium grill you are encouraged to buy when they are available. If they are not currently available a notice will be placed on this web page and the order form.
Corrosion resistant metals typically protect themselves by developing a coating of oxides on exposed surfaces. Aluminum and titanium are good examples. It isn't advisable to scour away the oxides every time you use the grill. Direct food contact is safe with stainless steel and titanium grills.
Making one's own equipment has become popular again and we welcome that trend. However, we discourage the use of aluminum as a campfire grill material. Aluminum has a low melting point and oxidizes readily at campfire heat levels. Campfire rings are, sadly, frequently full of junk, including melted glass and partially burned aluminum cans and foil. Unless you maintain very low heat with your campfire that is how your aluminum grill will look. If you want to make a titanium grill, we suggest you make a prototype out of carbon steel first.
---
Our Commitment and Miscellaneous Information
If a Purcell Trench product fails, or fails to provide the service you expect, return it with a note explaining your complaint and we will fix the problem, replace the product or give you your money back. Titanium grills are not guaranteed against warping over hot fires. Our products are hand made and there are variations in welding styles, working temperatures and so on, so the products do not look exactly alike. They are tough, working products. We also value craftsmanship (there are comments on the Internet about them looking like works of art, but durability and serviceability are the dominant criteria).
If you order products and they are not what you expected or not what you want, just send the item back in like new condition within a reasonable time period and we will exchange products or return your money.
I understand the difficulty of buying sight unseen. I suggest you fold or cut a piece of paper or cardboard the size of the grill you are interested in and place your cooking pots and pans on the model.
We charge a standard $10 shipping fee for all locations in North America, no matter how much or how little the order. Standard shipping is US Postal Service Priority Mail inside the USA and territories, and US Postal Service International First Class for the rest of North America. If special service such as expedited delivery is requested, that rate will be the shipping cost. Outside North America your shipping cost is our shipping cost. The current standard method is US Postal Service International First Class, usually much cheaper than US Postal Service Priority International, which includes tracking. First Class International does not include insurance or tracking. Other options are available. I am happy to provide you quotes for shipping options, insurance, signature required, etc. We do not charge extra fees for shipping. The rate charged by the shipper is your cost. If you prefer UPS or Federal Express to the US Postal Service we can do that. You will be charged whatever the shipper charges us. Note: First Class International can be irregular. The package can arrive in a week or a few weeks. If the package does not arrive that is a risk the purchaser takes. It has been a reliable service for us for years and the price is right for our price range of products, but you should request Priority or other expedited shipping if you want tracking and prompt service.
For other answers to your questions, try the TESTIMONIAL, FAQ, GRILL TIPS, HOME, SHIPPING and other links on the site. Give me a call or send a text message, or email to sales@purcelltrench.com.
Thank you for your interest in Purcell Trench grills. Tell your friends if you like our products. We do not advertise, preferring to invest in materials and skilled labor.
Don Tryon,
Purcell Trench mfg., P.O. Box 7, Addy, WA 99101 - 509-675-1413, sales@purcelltrench.com